We're excited to announce that we've completely overhauled goal tracking in Uptick and its ready for you to use today!
When we set out to build our goal tracking tools, we didn't want just another basic goals tool. We wanted something that would help us with our own goal tracking. Like many managers, we've struggled with setting good goals, tracking them well and seeing them through from time to time.
We wanted something that would help you talk about how the goal is progressing not just the latest status update. Something that helps you spot when a goal might be heading off the tracks before you're completely derailed.
That's why we built brand new ideas into goals like tracking how confident you are that the goal will be completed on time. And putting people in the loop so stakeholders can keep tabs on goals without you needing to send extra follow up emails and chat messages among other improvements.
To learn more, check out the product walkthrough video below 👇, or check out the rest of this post.
See how goal tracking works in Uptick
Want to get a live look at how Goal Tracking works in Uptick? Book a time with an Uptick expert to see how your team can leverage Uptick's goal tracking to become more effective.

What's new with goal tracking
Clarify priorities with Action Items
If you're an Uptick customer, you might have noticed that we've renamed "Priorities" to "Action items".
When we initially designed Priorities, the intent was to show what your team members planned to focus on before their next one-on-one meeting, and ideally, their priorities for the week would be in line with their goals.
While talking with people using Uptick, we found that they really wanted to be able to connect these prioritized action items to their long-term goals when it was applicable to help them see how much of their work each week was connected to completing goals.
People were also keeping longer lists of action items and just carrying them over week after week so it wouldn't fall off of their radar.
With the newly designed Goals tools, the weekly action items are shorter and more clear and the longer list of things to do to complete a goal are more organized.
Individual action items live within the goal you've created. They are all the things you know you have to do to achieve the goal.

Each week your team member can pull specific action items into their one-on-one that they plan to focus on. That way, you and your team member can can keep the master to-do list in the goal itself, and use your one-on-one to set priorities.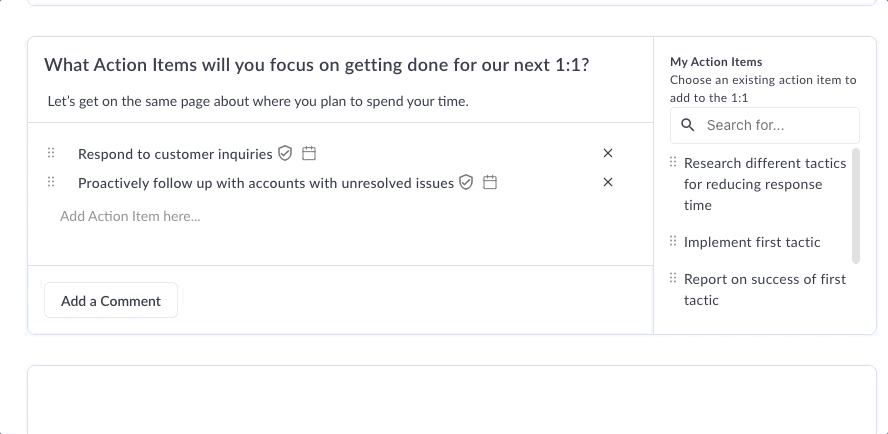 Know which goals are on track — and which ones need some help
Is this goal 80% complete, or is more like 74%? Completing 4 of the 8 tasks doesn't mean you're 50% done, those remaining 4 tasks might be 90% of the work.
It's more important for you and your team to know if you're on track to finish what you need to — which is why goal tracking in Uptick doesn't have any % complete numbers.
Instead, we ask your team member, "How confident are you that you'll complete this goal by the due date?" The main thing is understanding if you're on track to finish when you need to. Which can prompt a much deeper discussion about the ups and downs of the project than just an arbitrary "82% complete".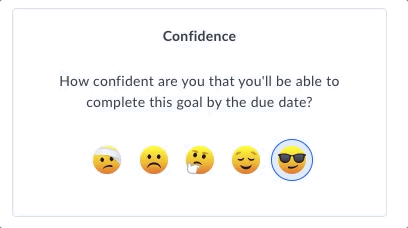 But we did include a progress bar to help you and your team member visualize where things currently stand. When you combine the confidence rating with the progress bar, it's easy for everyone to which goals are on track to being completed, and which ones might need a bit more time and attention. These are very subjective measures on purpose. They're aimed at helping you talk about what these mean to the person who set them.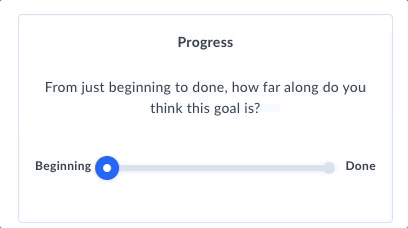 Share the vision
Are you just assigning goals to team members without sharing why they're important? Or worth working on? When everyone involved understands the importance of a goal, that leads to a sense of greater personal ownership. It's especially important to have buy-in from the person who will be doing a majority of the work.
That's Uptick's goal tracking now has a "Description" and "Why this goal?" section for you to fill out when creating your team's goals. Now, you have a dedicated space where you can share some more context around the goals your team is working on.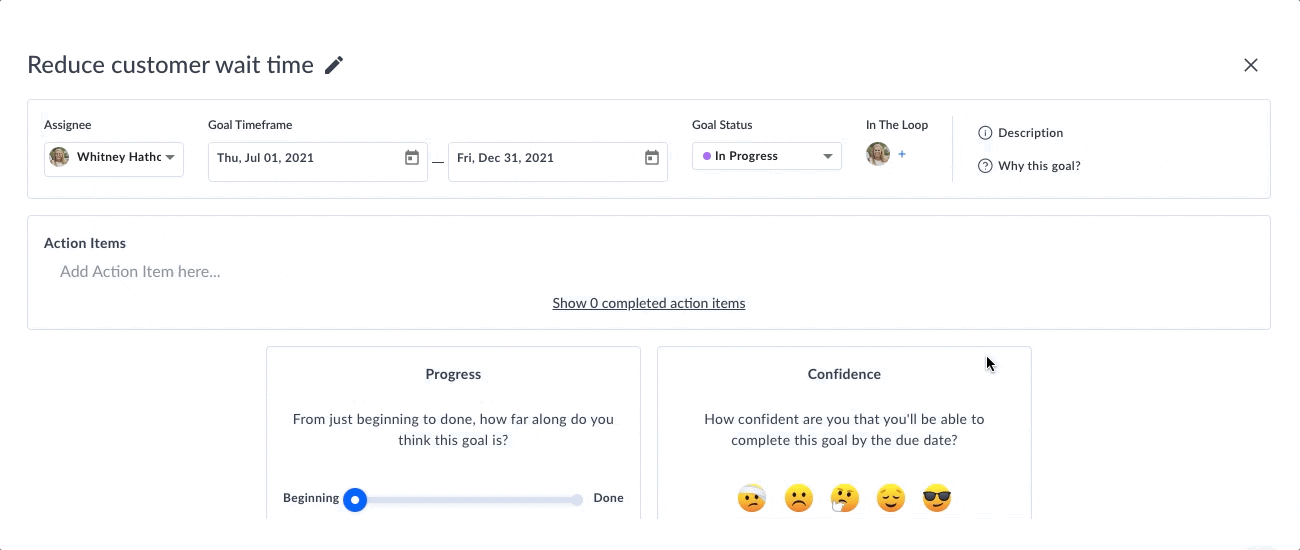 Track and share key updates
Stop relying on scattered emails, chat messages, different spreadsheets and random documents to track updates and progress made on goals.
Now, it's easier than ever to see all the important updates you and your team members share — all in one place. Whenever an update is written here, everyone In the Loop will get a notification so they know what's happening in the goal.
Have someone who is not actively working on the goal who needs to be informed when key updates are made? Stop sharing that info by email or Slack. Now you can add interested parties to "The Loop" and they will automatically be notified when key updates are made to the goal.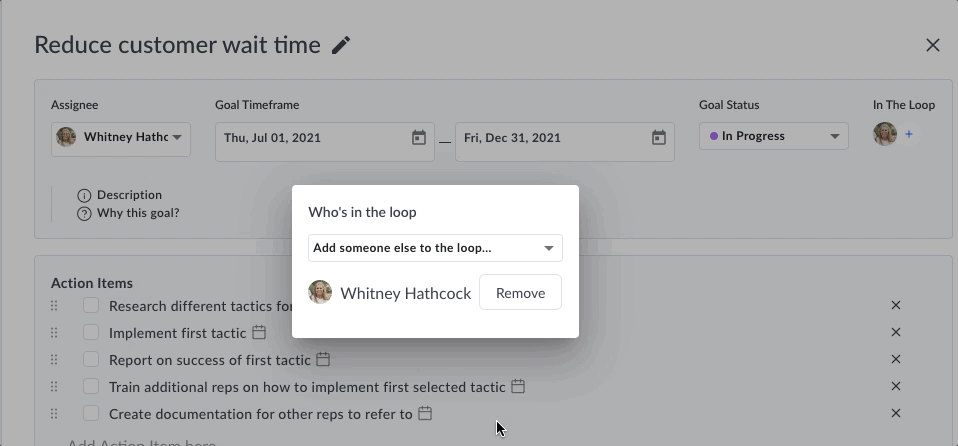 Get your goals on the right track
If you're already an Uptick user, you can start using the new and improved goal tracking feature today. Not an Uptick user yet? Sign up for a free account today and set your team up for success.
Set, Track & Achieve Your Team's Goals
Uptick makes it easy to get — and stay — on the same page when it comes to your teams' goals. You can quickly spot roadblocks, track progress and see what's detailing progress — all in one place.