Uptick helps you have meaningful conversations during 1-on-1's instead of just more status updates.
Are you holding your team back?
As a manager, it's your job to guide the team — but you can't make every decision. Uptick fixes your one on one meetings so both you and your team can focus on what's important.
Build trust that goes both ways in just 20 minutes per week, per employee.
What you can do with Uptick
Take the pulse of your company
Listen to your team, make decisions, and remove roadblocks—in just 1 meeting a week.
Set priorities with each team member so they know where to focus.
Discover what's slowing people down and help them get back on track.
Fast paced teams use Uptick



Take the pulse of your company
Holding a meeting isn't enough. You have to know which questions to ask. Uptick gives you tried-and-true questions, backed by research, that uncover what's really going on.
Use Uptick to create priorities alongside team members. They'll feel heard, and soon, you'll spot patterns in employee performance and culture. When priorities shift, both you and your team will know.
Your team is busy, but are they performing at their peak? Uptick streamlines your 1:1s by asking the right questions at the right time. All you have to do is follow the prompts.
Take the anxiety out of performance reviews
Uptick helps you create performance reviews with content from past check-ins. It's about collaboration and celebration, not surprise.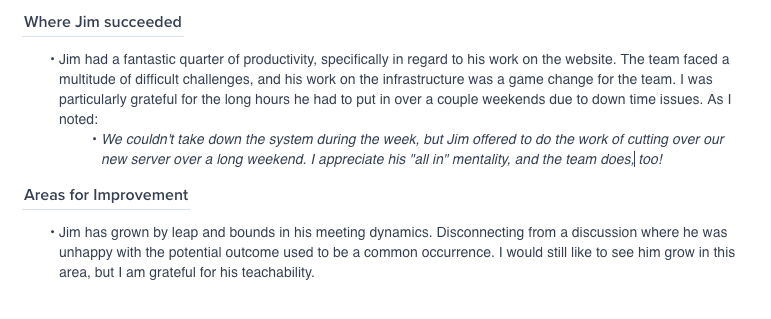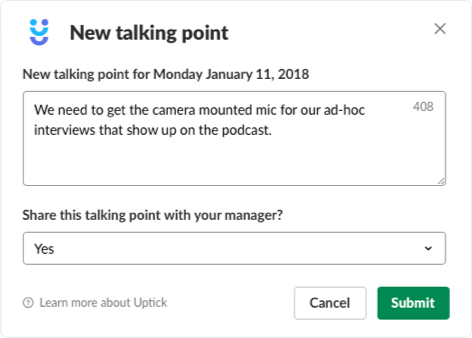 Let your team update you where they're already working.
Add talking points for your next check-in
Jot down progress in real time
Be reminded of top priorities during the week

Keep priorities on top of mind using reminders
Automated reminders for your team to fill out their check-in
Add a talking point for your next check-in without leaving Slack
Add a note about someone when they give you an update – right from Slack
What our customers are saying