Every year, the Graduate Management Admission Council (GMAC) asks corporate recruiters about the qualifications they look for in potential employees. And every year, the list is topped by so-called "soft skills." Soft skills are the qualities that describe someone's behavior and attitude at work. They stand in contrast to "hard skills," which describe the specific tasks someone is qualified to do. Put a different way, hard skills describe what someone knows, and soft skills describe the person's willingness to learn.

Soft skills have grown in importance throughout the 21st century, and they've become even more highly prized since the upheavals of 2020. GMAC's 2020 survey found that in the midst of the pandemic, the three most valued skills in business school graduates were communication, versatility, and strategic thinking.

Everyone agrees about the importance of soft skills, yet few companies have soft skills training programs. (Even the label of "soft skills" seems to minimize their importance.) But while soft skills can't always be quantified, they can be taught. After all, no one is born with perfect social skills. And while managers can't act as parents, they can still provide crucial employee training and mentoring.

Here's how HR professionals and managers can spur collective and individual growth in their teams, nurturing the skills that will help companies thrive in 2021 and beyond.

The Most Important Soft Skills for 2021
There's no definitive list of soft skills, but the concept includes qualities like organization, dependability, and leadership. Certain skills are better suited to certain companies and positions. For example, a highly collaborative company might value teamwork above all else, while a workplace with more employee autonomy might prize self-motivation.

That said, there are a few examples of soft skills that every company wants in employees, and a few that are particularly important in today's world.
Adaptability
The companies and individuals that succeed in a time of widespread uncertainty and constant technological change are the ones that value adaptability. We can think of adaptability as one part resilience and one part versatility, and in 2020, pandemic lockdowns forced everyone to adapt to new working (and living) conditions. Hopefully, the threat of the virus will subside in 2021, but it will continue reshaping the future of work. Employees need to be prepared to adjust to a shifting balance of remote and in-person work, new technology to manage the divide, and new time-management skills.

A 2020 survey found that 42% of companies increased their upskilling efforts after the coronavirus outbreak, and 91% reported that upskilling/reskilling training improved productivity. Not only that, but adaptability—a willingness to face challenges for the sake of growth—is intrinsically tied to employee engagement, job satisfaction, and retention. The same survey mentioned above found that "66% of employees ranked the joy of learning new things and developing new skills as the top upskilling motivator."
Creativity
You don't have to have an artistic temperament to bring creativity to your work. We could easily substitute the word creativity here with "problem-solving" or "critical thinking." They boil down to the same thing: an ability to think outside the box and question the status quo.

Twenty-first century companies need creative employees, who are more like artisans than members of an assembly line. After all, if a job doesn't require a certain amount of creativity (not to mention emotional intelligence), it can probably be automated.

When managers treat creativity as a soft skill, they encourage team members to experiment with new ways of doing things, and they welcome their ideas. This keeps employees from falling into ruts and checking out of their jobs. It also helps companies by empowering their workforce to point out inefficiencies and pioneer new solutions.
Communication Skills
Communication always ranks near the top of any list of soft skills. That's partly because communication touches on so many other skills—from empathy to conflict resolution to dependability. The ability to say the right thing at the right time in the right way has always been essential to a healthy and productive workforce. But it's becoming even more important in a world that simultaneously feels more and less connected than ever before.

Good communication skills are especially crucial in remote teams, which are becoming more ubiquitous. But remote work requires specialized communication skills to keep teams productive and harmonious. In particular, it's essential that team members excel at written communication so they not only convey the right information but also strike a tone that is both professional and friendly.

Having strong interpersonal skills is also important for companies during this transformative cultural moment. Navigating social issues in the workplace requires delicacy, respect, and, above all, the ability to listen.

Soft Skills Training for Teams: Turn Individual Skills into Company Values
The challenge in devising a soft skills training program is to turn qualities that can seem abstract and personal into measurable, team-wide growth. To do that, you must first identify the soft skills that are most important to your team and make them into shared team values.

This approach has several advantages. First, you're letting your team know the skills you're looking for instead of leaving them in the dark. Second, by reframing soft skills training as a collective challenge, it feels less like personal criticism. And third, making soft skills into company values ties these skills directly to business outcomes and professional growth. That way, you're not asking people to improve their communication for its own sake; you're increasing efficiency and customer satisfaction.

So pick the skills that are most important to your team—or the ones with the most room for growth—and get ready to make them a focal point of your management. Discuss the skills with your team during a meeting, and explain why they're important to the company's success and to the success of individual team members.

Example: "We want to focus on building empathy this year. Empathy helps us serve our customers by being aware of their pain points, and it serves us by extending grace and support for each other."

Keep these values top of mind for your team by calling them out when you see them.

Example: "Zach noticed some of our internal documentation was out of date and potentially confusing to new hires. So he pointed out the problem and suggested that we allow everyone to flag outdated information in our company wiki. Zach showed great communication skills and creativity."

Encourage continual improvement by making these values of regular feature of one-on-one meetings. Connect their performance to these values—celebrating achievements and highlighting areas for growth.

Uptick's one-on-one software makes this easy with the "values and virtues" feature, which helps keep these important skills top of mind.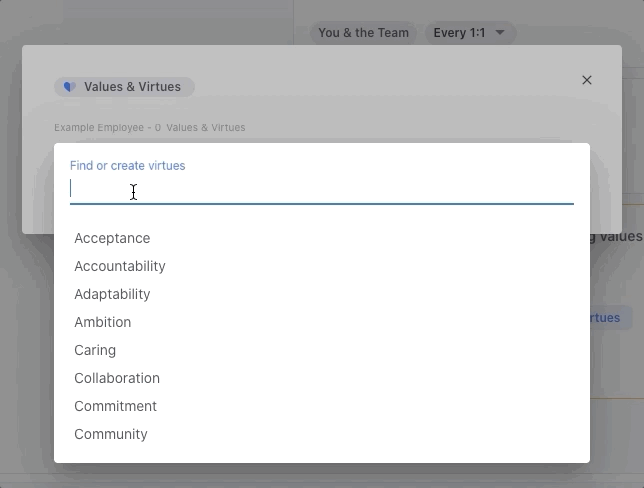 With enough repetition, your team will get the message that these are the skills you encourage and reward.
One-on-One Soft Skills Training
Thinking of soft skills as company values is great to make soft skills training a group effort. But managers still need to come up with individualized soft skills training opportunities for team members to address their personal weak spots. It's not the type of training you can get from an online webinar; it requires ongoing, real-world experience.

Much of the work of assigning and assessing soft skills training will take place in regular one-on-one meetings. This is a private venue where team members can speak openly with their managers. Managers start by asking team members what soft skills they feel they need to improve on, so they take ownership of this growth. But of course, managers will also be guided by their own observations and by peer feedback.

Together, manager and team member can pick one or two soft skills to focus on (don't try for perfection overnight) and can come up with concrete benchmarks to measure progress.

For example, a team member who seems checked out and uninspired needs to work on their creativity. Set a goal of having them learn a new skill to bring to their work or experiment with a different way of doing things.

Likewise, a team member who struggles to collaborate remotely needs to improve their communication skills. Make a plan to get them connected with their colleagues by setting up more Zoom meetings, or returning emails within a set time limit, and responding to all comments on work.


Your team's soft skills development will never really be done, because everyone has room to grow their personal and interpersonal skills. But by providing opportunities to practice these skills and regularly checking in on progress, you'll see team members' confidence and comfort grow.
Everyone Benefits from Soft Skills
Everyone wants to be surrounded by colleagues who have people skills to match their technical skills. But too many managers treat these soft skills as innate qualities instead of actively working to develop and encourage them in their teams. But the presence or absence of soft skills can determine the fate of a company. A company with workers who are engaged, connected, and resilient can weather whatever 2021 throws at us. And soft skills training prepares individuals for future job success by building the kind of emotional intelligence that can't be replaced by artificial intelligence.
Ready to start having better one-on-one conversations?
Learn how with our free guide to improving your one-on-ones.