Managers are responsible for managing people, which means it's important that you form a relationship with your team members. But as with all relationships, sometimes you fall in love, and sometimes you simply can't stand each other.

According to a 2019 study conducted by DDI, 57% of employees leave because of their manager — and at least 32% have considered it. But how many of those employees told their manager that they were leaving because of them? And if you were their manager, what would you have done to improve the situation to keep a great team member who left because of you?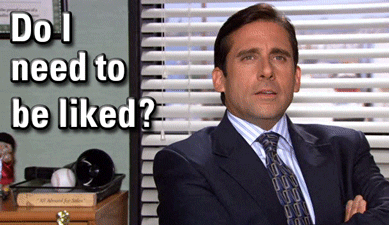 While we all want to be liked, getting your team members to simply like you isn't a worthy goal. Instead, when it comes to figuring out how to manage people who don't like you, you need to focus on how to get good work out of your team members, support them in their day-to-day role and help them grow within your company. This will help naturally counteract some of the feeling of tension, even if they still (unfortunately) don't like you personally.

So, how do you go about managing and support a team member who doesn't like you?
Recognize Your Team as Individuals
It sounds obvious, but each team member brings individual experiences and knowledge to the company. When you understand your team members, you identify leverage points to lead them toward success.

People bring three things with them:
Personality: Who they are.
Perspective: How they think based on their experiences.
Pathology: How their challenges have shaped their instincts, perhaps negatively, and informed how they conduct themselves in their work and relationships.
Their personality, perspective and pathology affect all of their interactions with people — and may differ from your own personality, perspective and pathologies. Once you recognize which of these facets drives the clash in your relationship, you can discover your point of leverage.

For example, you might be an extrovert and tend to speak a mile a minute. Your team member Sally however, might be soft-spoken and pick her words like they are diamonds. You might not be a great match personality-wise — but you still need to figure out how to leverage your differences so you can work together.

In this example, you should hone in on your different communication styles. You might prefer face to face interaction, but what about Sally?
You should make the effort to ask about her communication preferences. If Sally, for example, prefers to communicate via Slack instead of in person so that she has time to think through what you're asking and how she's answering, you need to respect her preference. While asking about and adopting to Sally's preferred communication style might not make her like you more, it will make her feel like you've made an effort to better understand and respect her work style.
Become a better manager so your team can be more effective.
Sign up for a free coaching consultation with Uptick Co-founder Chris Zaugg to discuss how you can increase your teams' effectiveness by connecting relationally.

Create Opportunities for Mentorship Across Titles and Departments
When you create opportunities for your team members to show their knowledge and credibility to upper-management or older colleagues, you empower your team and build their confidence.

It's a really positive experience when someone gets to share knowledge and strengths with other people. LinkedIn's 2021 Workplace Learning Report notes that they've seen a 1,100% increase in their Learning Groups, and a 121% increase in communication between instructors and learners in course Q&As. How does that translate to your team? Easy: Your team is eager to learn from each other and their colleagues in other departments.
As a manager, you want to empower your team — regardless of any tension you have with them. When you find opportunities for your team members to shine, it encourages trust: You have an eye on their goals, and can help them get to where they want to go. And bringing them together to fulfill their goals? That's teamwork.

Lunch & Learns are one type of activity that builds connections and offers mentorship on a wide level. Older team members could learn about social media or how to network on LinkedIn from younger counterparts. And younger team members — whether it's age or experience — want to learn about their colleagues' career paths and journeys. Through these stories, younger team members discover what hard or soft skills they can develop to grow in their careers.

Some of these mentorship opportunities may involve your team mentoring other senior or C-level managers. Don't be scared by the thought of "training your replacement": Nurture the talent you've been given. Empower your team members with these opportunities. Then stand back and enjoy watching them fly toward success.
Connect Your Team Members to Resources Across the Company
As a manager, guiding your team toward viable resources helps them achieve their career goals. Our natural instinct as managers is to be that resource for our team members — but that's tough to do when your team member doesn't like you.

Think about it, would you ask someone you don't like for help? Or would you try to go around them and find help elsewhere? Instead of making your team member feel like they need to sneak around you to get the support and resources they need, you should proactively explore company resources with them so they're able to build their own connections.

As a bonus, when you connect your team to other managers and C-level directors, you also invest in strengthening your team members' relationship to your company.

One way you can implement this is to set up skip-level meetings, where team members can connect with upper-management. Skip-level meetings are a great option, as your team gains a sense of your company's culture through the eyes of someone else. Other managers have their individual networks and resources they can provide to your team as well.
Just like one-on-one meetings, skip-level meetings focus on your team member's goals. If you want feedback on your management style, you can discuss that with your manager.

As you partner with your team members on creating connections, help them gather their resources through a professional development plan. Did Jenna get a course recommendation from another manager? Has your team expressed interest in a professional book club? Great! Whatever the resource and opportunity, collaborate with your team so that they have the space to work through these resources and continue their growth.
Management Is About Unleashing the Power of Your Team
Making friends at work is great, but friendship doesn't make you a great manager. We're not here to debate Niccolo Machiavelli's "It is better to be feared than loved" stance, either. You don't want to strike fear into your team. Instead, you need to find ways to support everyone on your team, regardless of where you fall on their likability scale.
When you consider how to manage people who don't like you, stop asking yourself "How can I make them like me?" And instead focus on, "How can I support my team to bring out their best work and feel good about it?" Managers act as bridges that connect their team members to valuable resources. Through these resources — and teamwork — you help unlock each team member's potential and help them grow.

Become a better manager so your team can be more effective.
Sign up for a free coaching consultation with Uptick Co-founder Chris Zaugg to discuss how you can increase your teams' effectiveness by connecting relationally.