Would you rather listen to a conversation on this topic? Feel free to listen to our podcast👇
Let me guess: You're here because your boss sent you a self evaluation form as part of your performance review, and you've been staring at it for 15 minutes, unable to write a single word.
Your hesitation is totally understandable! At best, self evaluations (and performance reviews in general) can feel like nothing more than another form of status update. At worst, they can feel like a high-stakes tightrope walk in which people are afraid of pointing out their mistakes or of praising themselves too highly.
Download your FREE self-evaluation template that will impress your boss.
Yep, it's free. And trust us…it will help!
Despite their bad reputation, self evaluations (also known as self assessments or self appraisals) are worth taking seriously. A good self evaluation can have concrete benefits: improving your boss' impression of you, putting you in line for a promotion, and even boosting your salary (more on how to do that later).
So let's talk about how to write a self evaluation that shows the traits managers are looking for in high performers, along with examples of self evaluations you can build on.
Only You Can Save Performance Reviews
Performance reviews are like fruitcakes at Christmas: Everyone hates them, yet they keep coming back, year after year. But why should discussing our job performance be so painful?

It's not because we're terrible team members—it's because the system is flawed. Employees are under tremendous pressure to prove their worth during performance appraisals but often walk away feeling misunderstood, undervalued, and confused by vague feedback.

According to a survey of Millennials by TriNet, a human resources company:
62% have felt blindsided by performance reviews
31% feel they've received biased or unfair feedback
59% feel their manager isn't prepared to give feedback
So what can you do to make sure your manager understands what a stellar employee you are and reflect that in your overall performance assessment? Become your own biggest cheerleader and equip your manager to do the same.
If your manager isn't holding up their side of the deal by giving you actionable, constructive feedback, you've got to do it yourself. Wee'll show you how to highlight your accomplishments, growth areas, and goals in a way that makes you stand out from the pack.
How to Write a Self Evaluation For a Performance Review
First, let's start with a solid self evaluation structure. It should look something like this:

If your manager or HR department gave you a form to fill out, that's fine—but, most likely, it only exists for documentation purposes. If you really want to wow your manager, make sure everything in this outline is covered in your employee self appraisal, even if you have to add extra sections or pages.
1. Goals (Personal or Assigned)
This is similar to areas of accomplishment but important to call out on its own. Everybody has projects to work on, but your boss may have suggested other professional development goals for you to work toward. Maybe you're supposed to be learning to use a piece of software, taking the lead on a project, or handling more customer management. If you haven't discussed professional development with your manager, here are three free professional development templates to help you introduce these goals into your one-on-ones.

Ideally, you'll also have some personal goals of your own to talk about, whether that's improving your time management, giving more confident presentations, or leveling up your skills in a specific area of your work.

Regardless of the goal, in your self evaluation, you should show what progress you've made since your last assessment. Have you hit your benchmarks as planned? Hopefully, the answer is yes, but even if you haven't fully achieved your goals, this can still be an opportunity to shine, as long as you show thoughtfulness and self-awareness. Bringing feedback from your last review into the next one will show you paid attention and care about your boss's opinion.
Goal self evaluation example:
Goal: Help our marketing team increase conversion rates from 3–5% on landing pages.
Action: Our marketing team has been focusing on beefing up our inbound campaigns, so I decided to go through the Hubspot Inbound Marketing Certification Course so I could speak our team's language and help create better lead magnets. We didn't quite reach our goal—we ended up increasing the conversion rate to 4.5%. However, this was important progress because it's the first time we've done a project like this. I learned so much about testing and best practices, and now I feel ready to lead more tests in the coming year.
2. Areas of Accomplishment Since Last Review
It can be tempting to gloss over this section with a quick summary of your duties—but don't make that mistake. Don't assume your manager will remember your accomplishments from the past year (or quarter or 90 days, depending on how often you have reviews) unless you draw attention to them. This section is your highlight reel, and if you're gunning for a promotion, it's also your audition.

For example: If you're a significant contributor to a project, include it in this section. And don't just write the name of the project; make sure you also highlight the project's status, what your involvement was, and the impact this project had on the company. These details are important to your manager because:
They care about the projects you're working on and want to know their status and other key details.
They care about what's occupying your time, as opposed to other projects you could be working on.
Areas of accomplishment self evaluation example:
I designed a new user flow last quarter. This took a significant amount of my work time, and it took collaborating with three different departments to make it a success. While I worked on this task, I took the opportunity to learn new software because I knew it would be a useful skill while I help out the design team (since Analisa is on leave).

I'm proud to say that I completed this project two days ahead of schedule. We used it to map out priorities for product development at the end of the quarter, and I think it will be useful as a reference document for the design team for several more years.
What if you can't remember what you worked on? To refresh your memory, ask yourself if you:
Served on a committee
Were assigned to a long-running project
Wrote any reports or summaries for your boss
Took the lead on an extra project you weren't assigned to
Took on a new responsibility
Mentored someone on the team
Took on your first direct report
Attended events or conferences
Designed or conducted trainings (even informal ones)
Made an introduction for a team member
Have any recurring to-dos or calendar events
Have key meetings on your calendar (going all the way back to your last review)
If you can answer "yes" to one of these items, it might be an accomplishment worth mentioning. Take the time to dive deep—you never know what you (or your boss) might have forgotten!
Don't want to dig through old emails? With Uptick, you can quickly search through your one-on-one meeting notes for keywords and find you wrote down along the way as well as your manager's reactions.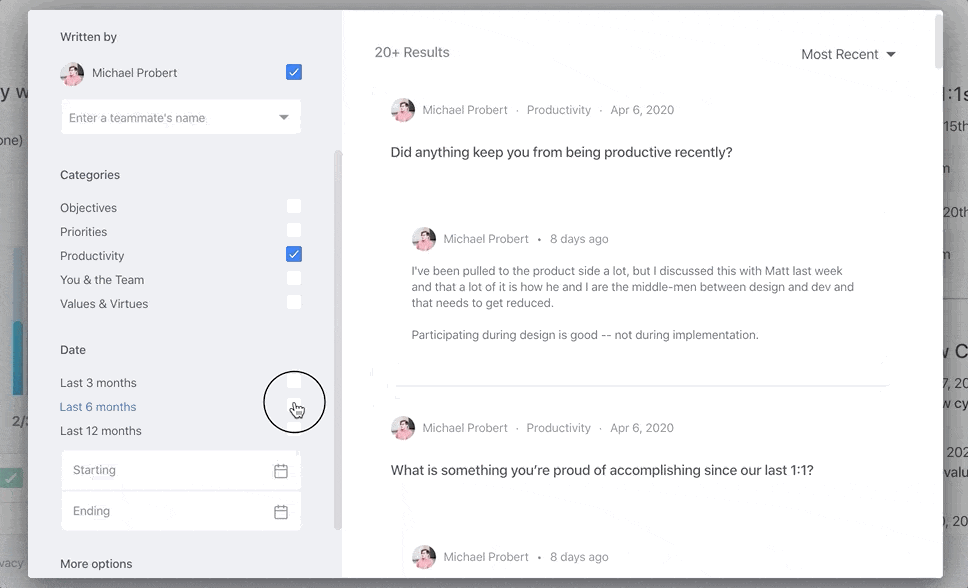 3. Insights on Productivity
This is the section of the self evaluation where you look under your own hood to figure out what makes you tick. What are the behaviors and circumstances that are helping you thrive, and what's holding you back from being your most productive?

Answering a question that personal can seem intimidating, but remember: Managers want you to be self-aware. It makes their job much easier when you have the ability to call out triumphs and failings, and then self-correct. It's even better if you understand the impact you're having on the team (and vice versa). When you collect these insights and share them with your manager, they're getting priceless information about team culture. To uncover insights, ask yourself these questions:
Did I have any breakthroughs, even small ones?
When did I feel most productive? Least productive?
What part of my job felt most challenging? What felt most rewarding?
Which teammates brought out the best in me, and why?
Which of my habits best served my productivity? Which ones sabotaged it?
Insight self evaluation examples:
I've come to the realization that I often engage in negative self-talk. Sometimes it's not even conscious—more of a feeling that "I could never learn that skill" or "I must not be very smart if this project is overwhelming me." I don't know if the team can tell, but this affects my confidence. I want to be able to take projects on with gusto, so this is something I'm going to work on. Do you have any resources that you recommend?
If your insights are more critical or they focus on other people, that's okay. But it's hard for your manager to help if you don't give them specific examples and say how you'd like them to intervene. Describe the reason you think the challenge exists, why it's hard for you, and how you've tried to overcome it. You may have overcome this challenge already, but that doesn't mean you shouldn't make a note of it.
The people who sit near me are often quite loud during the lunch hour, and that's when I get the highest call volume from our customers. I've talked to them about it, but the issue hasn't gotten much better. I'm not sure what to do about it. I need to be at my desk to take calls, but this situation makes it hard to focus on the customer. Can we talk about a way to fix this?
Download your FREE self-evaluation template that will impress your boss.
Yep, it's free. And trust us…it will help!
4. Areas of Improvement Since Last Review
"Areas of improvement" is the part of the self assessment that really makes people sweat, but there's no need to be intimidated. This is an opportunity to show that you possess self-awareness about your weak spots, and the drive to work on them—and that's exactly what managers are looking for in their high performers.

Self-awareness is an ever-elusive trait—but easier when you dedicate time to it. We recommend spending at least an hour to come up with areas of improvement, along with action steps to address them. This will help your manager find tangible ways to help you grow. They probably have their own ideas of how you can improve, but pointing out those areas and asking for help shows that you're responsive and teachable. Some managers are passive, so you might need to pointedly ask them if they have any areas of improvement for you. Don't shy away from asking for this feedback directly—it will give you important insight into your manager's priorities.
We all have areas we need to improve. This isn't about shaming yourself or being negative. It's about taking an honest look in the mirror so you can grow—not just as an employee, but as a human being.
Areas of improvement performance review examples:
When I'm in the middle of work, especially writing, I tend to get frustrated with interruptions. I've noticed that I try to end the conversation quickly so I can get back to my tasks. I'd like to work on more open communication with my team so we both know what to expect from each other. For example, I can let everyone know that when I have my headphones in, it means I need to stay focused. I also had an idea to make a visual desk toy that indicates when it's okay to interrupt me. How do you feel about me testing that out in the next two weeks?
5. Growth Plan or Professional Development Plan
Nothing says leadership skills like suggesting next steps for yourself. Again, your manager might have their own ideas on your developmental plan, but don't wait around for them to share. You know yourself best, so read through everything you've written in your self-reflection so far and consider what to do next to keep growing.
Professional development employee review example:
I'm eager to take the next step in my professional development by gaining a deeper knowledge of analytics. Our professional development stipend would cover one to three courses, and there are several affordable options from edX in statistics, data analysis, or audience analytics.
I'd like to choose a course and get your approval. Then I can bring my learning back to the team. For example, I could:

• Facilitate a workshop or lunch-and-learn
• Make recommendations on training topics for our customers
• Suggest new ways to optimize marketing analytics
6. Company or Personal Core Values
This section should summarize how you conduct yourself as a person and as a member of the organization. By starting here, your boss will understand how you see yourself aligning with the company's values, or how you define them for yourself if they aren't stated by the company.
If your company has clearly stated values, then you've got it easy. Just write out each of your company's core values and how you've embodied them since your last review. Use a detailed example from a time when you went the extra mile and how it benefited the company.
Core value performance review comment example:
Core value: Customers come first
We always aim to deliver our product on time, even if it means extra work. When one of our customers had mid-project delays this year, it affected our project delivery dates. They said they understood if our timeline was delayed because of the mistakes. But I did some research and realized that on-time delivery would be possible with about 15 extra hours of work. I put in the additional time to communicate with the team, explain the situation to our customer, and make sure they got their product when it was initially promised to them.
If your company doesn't have a defined set of values, that's okay. Title this section "My core values." If you need help, check out this resource that walks you through how to define your core values. Keep it to five or fewer—after all, if everything is core, then nothing is. Once you've identified your core values, give at least one example of how you exemplified each trait since your last review.
Get More From Your Self Evaluation
You've put all this work into your self evaluation, and it's a thing of beauty. So don't just hand it to HR and forget it when you can put it to work in your professional life in a lot of creative ways.

As promised, here are a few ways to make your self evaluation go even further when it comes to career progression:
Add areas of accomplishment (#2 on this list) to your resume, personal website or portfolio, and LinkedIn profile. Now you'll be up-to-date in case you want to freelance, network, or search for jobs.
Use insights on productivity (#4) and areas of improvement (#5) to generate a list of content ideas to boost your thought leadership credibility on your own media. These could be LinkedIn posts, videos, blog posts, podcasts, webinars . . . the list goes on.
Use goals (#3) and areas of accomplishment (#2) to come up with ideas for trainings, presentations, or even a conference talk. If you're an expert in something, teach your team! If there's something you'd like to learn, chances are you're not the only one, so help create opportunities for growth.
Look over the entire self evaluation and look for patterns. Write them down, pick one to three ideas that resonate the most, and use them to create a personal statement or tagline. This can be used in your LinkedIn headline, resume, online bios, elevator pitch—anywhere you want a stronger personal brand.
Review goals (#3) and areas of accomplishment (#2) to prepare for salary negotiation with your employer. A well-thought-out list of what you bring to the table and why it's valuable is essential to any negotiation. If you come prepared with a positive attitude and relevant market research (e.g., average salaries and responsibilities for someone with your job title), you'll be well on your way to a raise.
Your Self Evaluation Is an Opportunity, Not a Punishment
Hopefully, you'll come away from this guide understanding how to write a self evaluation with confidence. You should be equipped to showcase your accomplishments, as well as pick examples of areas for improvement that help, rather than hurt, your career. If you put thought into your self evaluation and are willing to be self-aware, you're guaranteed to stand out and get the kind of performance evaluation you deserve.
Download your FREE self-evaluation template that will impress your boss.
Yep, it's free. And trust us…it will help!